Permanent Residence Cards
A permanent residence card is a special card that shows the holder has received permanent status in Canada. Such cards are for individuals who are permanent residents but are not yet citizens of Canada.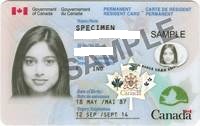 We know the application process and requirements. We can guide you through each step and ensure your application is complete and all supporting documents are in place. Please contact us to learn more about applying for a Canadian PR card.
Our difference is that our principal Immigration Consultant, founder of Stein & Lovich Associates Inc., Lilia Merkoulovitch, always personally assesses each case and personally communicates with each client and no application ever gets submitted to the Canadian Immigration Office without her thorough review.